Emuaid® Buy Emuaid

EMUAID® is manufactured by a FDA registered over-the-counter drug, homeopathic drug and medical device facility.

EMUAID® is regulated by the FDA as a homeopathic drug.

One of the Most Advanced Forms of Natural Healing Available!

* Anti bacterial, anti-fungal, and anti-viral

first aid ointment

* Reduces pain, infection, and inflammation

* Safe & effective doctor recommended

natural medicine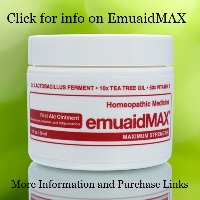 Summary of Emuaid®
EMUAID® is a groundbreaking, scientifically-based, modern homeopathic topical treatment engineered with natural healing ingredients and rare growth factor stimulators that work synergistically to immediately soothe irritation, dramatically reduce inflammation, treat a variety of disorders and heal damaged and resistant skin conditions.
NATURAL The natural ingredients in EMUAID® assist the body in activating its self-healing powers to safely fight the most powerful bacterial, fungal and viral skin conditions.
100% Natural

Concentrated Active Ingredients

No Chemicals

No Artificial Preservatives

No Lanolin

No Parabens

No Petrochemicals

No Fragrance

No Alcohol

Not Tested on Animals
SAFE Safe for all ages, EMUAID® is recommended by doctors and trusted by consumers.
What is in EMUAID®?
EMUAID® is made from the highest quality natural healing ingredients available without a prescription. Our formula is made from a complex blend of concentrated medical grade ingredients, including: 10x, 20x, 30x HPUS Argentum Metallicum (Pure Silver Hydrosol – active ingredient), Emu Oil, Lactobacillus Ferment, L-Lysine HCL, Tea Tree Oil, Phytosphingosine, and Ceramide 3. Each one of these ingredients possesses broad spectrum healing properties that make our unique formula highly effective. EMUAID® does not contain chemicals, artificial preservatives, lanolin, alcohol, parabens, petrochemicals, or fragrance.
How Does EMUAID® Work?
EMUAID® is a homeopathic medicine that works with your skin's own systemic regenerative mechanisms to treat a variety of acute skin conditions. As a topical treatment, EMUAID® is non-invasive, safe to use anywhere on the body, and works as an anti-bacterial, anti-fungal, anti-viral first aid ointment. EMUAID® is safe and effective for all ages and relief is often immediate. Most users notice a difference in their skin condition, however advanced, within 24 hours.
Is EMUAID® Safe for Children?
Yes. Despite being a powerful and rapid healing compound, EMUAID® is a safe and versatile medication for the whole family with no side effects or conflicts with other medications. EMUAID® contains no chemicals or irritants of any kind and is a natural, soothing, and effective ointment for a number of itchy and painful skin conditions that affect children, such as molluscum contagiosum, eczema, diaper rash and poison ivy.
What is the Most Effective Way to Apply EMUAID®?
For most skin conditions it is best to begin by applying a very thin layer of EMUAID® to the affected area 3-4 times per day. To experience the best results, reapply EMUAID® to the affected area regularly.
What Kind of Precautions Should I Take When Using EMUAID®?
EMUAID® is a safe, easy-to-use, non-invasive topical ointment for a variety of serious and painful skin conditions. We use only the highest quality, natural healing ingredients in our product, so that we are able to provide you with a formula that works every time.
As with any Over the Counter (OTC) medication, if your condition persists or becomes more severe, contact a medical professional immediately.

Do not ingest EMUAID®.

Although EMUAID® is safe for use on children, please make sure it is used under proper supervision.

EMUAID® is not a substitute for professional health care. If you have a serious skin disease or condition, or suspect one, always seek immediate medical assistance from a qualified practitioner.
Which skin conditions does EMUAID® treat?
EMUAID® relieves symptoms due to minor wounds and burns, bruises, ulcerations, sunburn, razor burn, scrapes, rashes, blisters, bug bites, and skin eruptions from acne, eczema, or minor infection. EMUAID® helps reduce burning, stinging, itching, redness, stiffness, minor pain and minor inflammation associated with the following conditions:
Has EMUAID® been clinically tested?
Yes. EMUAID® is proven to have 99% efficacy approval rating. EMUAID® is recommended both by physicians and customers worldwide. Additionally, EMUAID® is non-steroidal, has NO reported side effects, and does not conflict with other medications.
Rapid Relief
EMUAID® works with the body's natural resources to reduce pain and inflammation. The unique combination of ingredients stimulates blood-flow to rapidly repair damaged, irritated skin conditions while simultaneously fighting bacterial, fungal and viral infections. Customers report noticeable relief and improvement within hours. Concentrated active ingredients work together to immediately eliminate pain and irritation while restoring skin health.
Transdermal Delivery
EMUAID® utilizes a natural, yet highly effective transdermal delivery system. By synthesizing Emu Oil with our proprietary blend of bio-active healing ingredients, EMUAID® penetrates the skin barrier more efficiently than many other delivery systems to quickly reduce pain, irritation and inflammation. This technology allows our therapeutic compound of homeopathic ingredients to target, treat and alleviate skin conditions immediately upon application.
Natural, Medical Grade, Bio-Active Ingredients
EMUAID® is made from the highest quality natural healing ingredients available without a prescription. This medical grade homeopathic ointment combines specific bio-active ingredients including:
Argentum Metallicum (10x, 20x, 30x HPUS Pure Colloidal Silver), a broad spectrum treatment for burns and wound healing

Lactobacillus Ferment, a probiotic with antimicrobial and antioxidative properties

L-Lysine HCL, an amino acid used to prevent and treat viral infections

Tea Tree Oil, an essential oil effective in treating various skin conditions

Phytosphingosine, a naturally occurring lipid that has bacteria-killing properties, and acts as an anti-inflammatory agent

Ceramide 3, a plant-derived, skin-identical lipid that helps to rapidly restore the skin's moisture barrier

Full list of Ingredients Below
Versatile
Our unique formula harnesses the highest quality healing ingredients to renew, replenish and repair the most damaged, painful, uncomfortable, and unsightly skin ailments.
Our customers continuously give us feedback on the exceptional efficacy of our product across a variety of skin conditions:
Molluscum Contagiosum "I bought this a few months back after the Doctor said that my daughter's molluscum would just go away on their own. She was getting more and more by the minute and her underarms and back of knees looked red raw. It took about 2 weeks of applying the ointment direct to the molluscum every night and they soon began to dry up and disappear. Would recommend to all!"* - Laci V., New York NY
Hidradenitis Suppurativa (Severe Boils) "Very seldom do I write reviews, but EMUAID® is really a great product and worth the time and effort. If you suffer from hydranitis suppurativa you must give EMUAID® a try, you'll be very happy you did. I only wish I had found this earlier! I don't go anywhere without it. Even though I use it frequently, it lasts a long time, it is natural and doesn't have side-effects with long-term use."* -Jean S., Omaha NE
Shingles (Herpes Zoster) "Having heard that nothing will help with the pain from shingles, I was very skeptical about any product claiming to give relief. I decided to take a chance and order some EMUAID® for my father. True to the product claims, he said the pain relief is immediate and long lasting. Apparently it is working better than anything else he has tried, including prescription medications."* -Mary A., Kansas City KS
HPV Warts (Condyloma) "I have had genital warts for almost a year. I tried several other remedies which were so incredibly painful I could not go through with them. This was a last resort before going to a doctor (which I was avoiding as this was not covered by my insurance). After only TWO DAYS of using this product, the wart was just a small scab. What an incredible relief! I would highly recommend EMUAID®."* -Loyal Customer
Hemorrhoids "I have had severe internal and external hemorrhoids for over 2 weeks. I have used multiple different OTC ointments and my physician could offer no advice other than "keep doing what you're doing." I used this for the first time just a few minutes ago and applied only a very small amount. Within 1 minute, I got complete relief and am sitting here totally pain free."* -Loyal Customer
Cellulitis "I ordered your product after finding it on the internet. After using antibiotics to treat my cellulitis and the awful continuous infections, your product after only 1 week is working miracles!! Thank you!! So far so good!! Works excellent, I am here to purchase several more, thanks for something I can finally trust. I have been a long term sufferer of this affliction. I have tried many products that have not worked over the years and this was the one product that freed me from this bad condition. Thank you for this wonderful product!"* -Dena, Denver CO
Psoriasis "I had used a couple other products but had only minimal success. I used EMUAID® and I saw the results quickly. All of my scales have cleared up. I haven't even used the stuff for the past month and they haven't reappeared. Easy on your face, behind ears and other sensitive areas. Will buy more as needed!"* -Ann, Phoenix AZ
Poison Ivy "My child had a severe case of poison ivy this works incredible! Thank you"* - Doris, Plano TX
Diaper Rash "EMUAID® is great for preventing diaper rash. I am a nurse...the best way to apply EMUAID® is as a prevention measure. Either use it daily or at night…all in all this is the best diaper rash product currently on the market."* - RN, Minnesota
Bed Sores "My father got bedsores and the pain was so bad he wondered how he would manage. Every suggestion from the doctors was ineffective. We have tubes and jars of useless cremes and lotion. I found this miracle product on line. I ordered it for over night. The itching and the pain began to lessen with every application. The rash and sores are healing much quicker. To deal with bedsores while dealing with the inevitable progression of his horrible disease was just too much. The EMUAID® was a miracle to us."* - Amy, Miami FL
Eczema "I ordered your product after finding it on the internet. After using steroids for close to 30 years to treat my eczema and the awful continuous infections, your product after only 1 week is working miracles!! Thank you!! So far so good!!"* - D.B., Berlin NJ
*These statements have not been evaluated by the FDA. This product is not intended to diagnose, treat, cure, or prevent any disease.
Full List of Ingredients
Emu Oil – Derived from the Emu, a prehistoric bird thought to have been native to the Australian outback, Emu Oil is a miracle compound that naturally acts as an anti-inflammatory, a bacteriostatic (meaning it prevents bacteria growth), and a hypoallergenic (does not cause skin irritation or side effects). Unlike many other natural oils used for cosmetic or medicinal purposes, Emu Oil is also non-comedogenic and transdermal; it does not clog pores, and passes through your skin's natural barriers to heal without leaving a greasy residue. Emu Oil organically contains antioxidants, healing agent, skin softeners, and antiseptics. Emu Oil is known to act as a healing accelerant, and will naturally aid in the treatment of a variety of painful, itchy and inflamed skin conditions (such as Psoriasis, Eczema, Poison Ivy, Burns and Shingles). Cosmetically, Emu Oil reduces scarring and skin damage, such as that caused by keloids, stretch marks and skin grafts.
Vegetable Oil – Vegetable Oil is a naturally occurring lipid derived from plants that contains healthful active ingredients such as vitamins, phytochemicals, and antioxidants. Vegetable Oil acts as an emollient by moisturizing dry skin, and helps to strengthen your skin's natural barriers.
Hydrogenated Vegetable Oil – Hydrogenated Vegetable Oil acts as a skin-conditioning agent.
Euphorbia Cerifera (Candelilla) Wax –Candelilla Wax is frequently used as a skin conditioner, cosmetic astringent, and emulsion stabilizer.
Lactobacillus Ferment – Lactobacillus Ferment is a by-product of fermenting the Lactobacillus bacterium. Similarly to other probiotics in this genus, Lactobacillus Ferment can help to treat a number of health problems such as allergies, neoplastic growth, and inflammatory bowel disease when taken internally. When applied topically, as it is formulated in EMUAID®, Lactobacillus ferment acts as an antimicrobial and antioxidative agent.
L-Lysine HCL – L-Lysine HCL is an essential amino acid, or a building block of protein, your body needs for tissue growth and repair. L-Lysine HCL also helps in the production of antibodies, hormones and enzymes necessary to fight disease, and because it helps build muscle protein, it can be useful for patients recovering from injury or surgical procedures. It is used in many different kinds of topical and ingestible medicines. In EMUAID®, L-Lysine HCL is used to prevent and treat cold sores (caused by the herpes simplex labialis virus) and shingles when applied directly to the skin.
Glyceryl Dibehenate – Glyceryl Dibehenate is a skin-conditioning, surfactant, and viscosity-increasing agent.
Tribehenin – Tribehenin is a glyceryl tribehenate, made up of glycerin, a smoothing lubricant and humectant, and behenic acid, a plant-derived fatty acid and conditioner. Tribehenin is non-toxic, and acts as a penetration enhancer for other ingredients in EMUAID® that heal below the surface level of your skin.
Glyceryl Behenate – Glyceryl Behenate is an FDA-approved mixture of refined vegetable oils. We use Glyceryl Behenate as a surfactant, viscosity-increasing agent in our emulsifying process, as well as a skin-conditioning agent.
Hydrogenated Castor Oil – Hydrogenated Castor Oil has a number of healing properties. It treats skin problems that include acne, burns, sunburns, skin disorders, cuts, abrasions, muscle pains, inflammatory conditions, skin eruptions and lesions.
Squalane – Squalene oil is the most common antioxidant and fat produced in human skin, and it acts a natural moisturizer. We use Squalane derived from olives.
Melaleuca Alternifolia (Tea Tree) Leaf Oil – Tea Tree Oil is an essential oil extracted from the leaves of the Melaleuca alternifolia, a native plant of New South Wales, Australia and New Zealand. Tea Tree Oil was used in traditional medicine for years, and recent studies prove it has antifungal, antiseptic, anti-inflammatory, antimicrobial and antiviral properties when applied topically. Tea Tree Oil has had success treating some strains of antibiotic-resistant bacteria and has also been used to treat Staphylococcus aureus effectively, including MRSA. Tea Tree Oil has been effective in treating various skin disease and conditions that include fungal infections, mites (such as scabies), lice, acne, chicken pox, shingles, blisters and the herpes simplex virus (i.e. cold sores).
Tocopheryl Acetate – Tocopheryl Acetate is the ester of acetic acid and tocopherol (vitamin E), used in skin care products instead of pure vitamin E because it is less acidic. Tocopheryl Acetate penetrates the skin to reach the living cells where it protects skin from ultraviolet rays, free radicals, gives skin smoothness and increased moisture content, promotes healing, and inhibits the oxidation processes that cause skin aging.
Phytosphingosine – Phytosphingosine is a naturally occurring chemical in the lipid family. Phytosphingosine lipids are known as part of your body's natural defense system because they inhibit micro-organisms and their second-messenger function. Phytosphingosine lipids have bacteria-killing properties, and act as anti-inflammatory agents. Recent studies reveal that Phytosphingosine lipids have great promise in treating skin conditions characterized by hyperproliferation, inflammatory infiltrates, and aberrant differentiation, such as psoriasis and atopic dermatitis.
Ceramide 3 –Ceramides make up 40-50% of the lipids in the outermost layer of your skin. Scientists have discovered that psoriasis and eczema-sufferers have an imbalance or deficiency of key ceramides. The ceramide deficiencies that cause itchy, embarrassing and painful skin conditions like eczema and psoriasis can be aided by topical replacement of Ceramide 3 through use of EMUAID®. Ceramide 3 enables skin penetration, has anti-aging and regenerating properties, replenishes the loss of skin's internally produced ceramides, and recovers their barrier function.
Olea Europaea (Olive) Fruit Oil – Olive Oil, pressed from the ripe fruit of the Olea europaea tree, has been hailed for thousands of years as the secret of beautiful, Mediterranean skin since its cultivation in Crete and Syria more than 5,000 years ago. Olive Oil acts a phenomenal skin moisturizer, filled with natural antioxidants (vitamins A and E), linoleic, oleic and palmitic fatty acids, and polyphenol, which will remove free radicals and postpone skin aging. Olive Oil also treats dry, itchy skin (pruritus), stings, and burns.
10x, 20x, 30x HPUS Argentum Metallicum (Pure Colloidal Silver) – Collodial Silver is a powerful natural topical antiseptic, analgesic, and anti-inflammatory. It helps to heal and relieve painful discomfort resulting from minor wounds, infections, burns, cuts, abrasions, insect bites, blisters and rashes.
Source: Manufacturer provided information.
LIVE THE NATURAL LIFE!
Note: The website www.naturalhealthcarestore.com does not provide medical advise. The site simply provides research data for informational purposes. The content included in this website is not intended to be a substitute for professional medical advice, diagnosis, or treatment. Always seek the advice of your physician or other qualified healthcare provider with any questions regarding medical conditions. Statements included in this website have not been evaluated by the FDA. Products carried by the Natural Healthcare Store are not intended to diagnose, treat, cure, or prevent any disease.