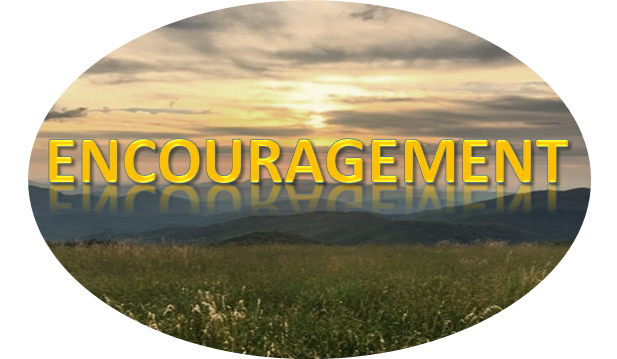 With today's prevalence of social media, email and texting we intersect the power of Words daily (and, often hourly). Words can express love, kindness, and encouragement; and, yet just one negative word can obliterate the strongest people. The duality of this power is documented in parables and proverbs from cultures across the globe (below) and our fight against this negativity must be to stay encouraged .....

intentionally.
Proverbs 12:18 - The words of the reckless pierce like swords, but the tongue of the wise brings healing.

Proverbs 15:1 - A gentle answer turns away wrath, but a harsh word stirs up anger.

Chinese Proverb - Good words are like a string of pearls.

Japanese proverb - The tongue is but three inches long, yet it can kill a man six feet high.
Negative and destructive words are an inevitable part of life; they can invade our jobs, our families and our News Feeds. And, if we're being completely honest, then we have to admit that we are also participants – whether subjecting an innocent bi-stander to an outburst or being relentlessly critical of ourselves.
There is no way to avoid negative words! The internet has provided a medium to spread negativity as if it's a part-time job – "trolling". Even our news outlets love to tap into negativity – "If it bleeds, it leads". Like they say in AA

the first step is admitting there's a problem

– a real problem.
All of these negative words have an impact! One great quote I found said that harsh words cannot be forgotten; only forgiven. And, we all know this truth – we can spend years building a relationship with someone and then destroy it all with just a few words.
How do we to protect ourselves?
How do we stay separated from this?
Last week I wrote a blog about Community and listed many positive ways that my community has impacted my life. The last reason was that it has "been a place to find encouragement". But,

it's not important that my community know how to encourage people in general; it's important that my community know how to encourage ME!

Encouragement is not always a kind word. Sometimes it's the

perfect

word, or a surprise visit, or a cup of coffee, or a sweet note. In short, my encouraging community is not comprised of casual acquaintances. It's a group of people that know me

well

!
So, what does this mean?

Building community requires intention.

You should read the "Friendly Feedback" section of last week's and this week's blogs for ideas about where to start.
Another way to stay encouraged is to examine our "authorities".

T

o whom in our lives have we given authority?

At one point in my twenties, I came to the sad realization that the authorities in my life were mainly my bosses and my family (when I saw them). If you knew my bosses, then you would know that this was a dire situation. Slowly I added new authorities to my life which made the voices of my bosses have less impact. Personally, I started going to church. I also had a friend recommend the type of books that change your mind about you and life. I made a habit of reading a particular weekly blog that I knew I could count on for some uplifting thoughts. And, finally, I added a quiet meditation to my daily routine.
You cannot escape negativity (especially if it's your inner voice that is negative),
but you can turn down the volume by s
eeking out encouragement!

Last week I asked some friends three questions:
What encourages you? How do you deal with the negative voices in your life? How do you encourage others?
Their responses are below, but please feel free to leave a story about your own experience! We would love to read it.
Marsha T., Full-Time Yoga Instructor, Trained in Vinyasa Flow / Full-Time Mother of 1 / Pescatarian / IG @marsha_elle
The most encouraging person in my life on a daily basis is my father. He is so wise and as long as I can remember he has always encouraged not only my family but everyone around him to always see the positive of any situation. He never ceases to write encouraging notes and hang them all around the house for everyone to see. He shares his light and kind spirit with the world.
Dealing with negative people in your life can be very difficult especially if it is someone close to you. I have learned that when people are negative it has nothing at all to do with me, it is a direct reflection of how they feel about themselves and or something they may be going thru at the time. Happy people aren't negative and it has taken me a while to realize this.
I encourage others by being a kind person and staying positive as much as possible. When I teach my classes I do it with intention and I always strive to set that intention among the students so that they know I care and they matter. We are all a part of something really amazing and my goal is to encourage self-love first so that it will be passed on to everyone around you.
Many of the negative voices in my life come from within ("you're not good enough" or "that idea will never work"), which are just fear-based thoughts that I learned as a child. When I become aware of these negative voices, I use it as an opportunity to examine and understand why the negative voices are there, affirm that they are untrue statements and then reframe them into a new, empowering statements based in self-love and self-acceptance.
The best encouragement comes from my husband. I guess, because he is normally more reserved with his words, so when he does speak, I listen. When those words are encouraging and meant to support me, it is all the more powerful towards my heart.
When dealing with negativity around me, it is always best for me to root myself in the Word of God. His promises remind me that I am strong, beautiful, smart and made in His image. If He created me after Himself, then DANG I must be something worthy!
Personally, I encourage others by acts of service. I know that when I am overwhelmed or consumed with business, chores, sickness, stress, etc. the best kind of love is the kind that comes over and sweeps your floors, mops your kitchen and swaps out the laundry. A clean house helps clear my mind.
Encouragement in my life comes in lots of forms from supporting words when I have a moment of doubt to thoughtful cards from my mother just when I think all I ever get in the mail are bills. Lately, I have been getting encouragement in the form of reminders. A good friend asked me why I haven't planned a retreat I've been talking about all year. Then one of my long-term yoga students told me I haven't been sharing my words of wisdom as much in class and she missed it. Honestly, I didn't think people appreciated my insights so I stopped sharing as much. They reminded me of the importance of expressing my voice and taking action on the things I am passionate about. Encouragement can come in many forms and sometimes we need loving challenge to move us into something greater.
Jason N., A Self-Inflicted Guinea Pig & Fitness Lab Rat
Almost three years ago, things went sideways in a bad way. While I was looking at all my options, one thing I did decide to do was work on mental toughness, so that I could navigate this turbulent time. Before he moved from Atlanta, Brad, at the time an owner of a local CrossFit affiliate, who's a former Navy SEAL, emailed me, asking if I wanted to sign up for 12+ hour long endurance bootcamp called 20x Challenge (meaning that you're capable of 20x's more than you think you are). This was run by current and former Navy SEALs and other special op groups. He told me the fitness metrics required, and I told him the standards I could hit. He told me I was fine, so I signed up. However, this was done with barely a one month lead time, while I needed a minimum of three months of major prep.
Because I was still navigating these emotional struggles at the time, this challenge wasn't quite on my radar until one week prior. This went down in early November of 2013. Because I didn't crank up my caloric intake and didn't maximize my macronutrients, I was pretty weak going in. When it came time to do the challenge, I went down early, and I went down. Hard. Emotionally, I felt like a mess and useless, less than worthless.
When I came to, spending time to recuperate, this Army Ranger, who was the assigned medic, attended to me, made sure I was warmed up, made sure I changed into dry clothes, shoved calories in my face, and made sure I was okay. A couple of people, though, came by when I was alone and suggested that I just quit, that I was wasting my time. I wanted to burst out "you don't tell me what to do, telling me to quit!" But I waited for the Lead Instructor, a 30 year veteran of training Navy SEAL candidates, and a retired Chief Warrant Officer, named Lance, for his opinion. Lance had this gruff voice, and made you think of Clint Eastwood. He told me that whether or not I quit was my call, but that he wanted me to continue. I jumped back in, shoved more calories in my face.
When I came back, it was time to do strict dead hang pull-up test, of 10 consecutive pull-ups. I used to do pull-ups for days back then. Because I was weak, though, I knew my numbers would be jacked. Well, when I came to, I was only able to crank out six, but that was okay under the circumstances. We went on a forced ruck march, but they decided not to put 20 pounds in my ruck, but just bottled water for everyone. I was cool with that, but they asked everyone to carry a forty pound metal rod, which I grabbed. We lost track how many miles we went. But when we got back, we did Murph. Again, I didn't do weight in my ruck, and I needed to scale the WOD big time, but I did it. A Did Not Finish was never an option. When I finished Murph on my last mile, they sent this one kid to run with me to give me encouragement. He was cranking out encouragement left and right, telling me that I was a rock star for jumping in this. I could go on and on what he was saying, but it was making me feel ten foot tall and bulletproof.
I appreciate Lance's encouragement, that teenager's encouragement, and Brad's encouragement. And I am most grateful for the Ranger's encouragement as well. When you're on fumes, and you're questioning everything about yourself, and your head is a mess at the time, someone telling you that he believes in you can give you the fuel you need to do something that is basically crazy. I told the Ranger how I was embarrassed about all this, and he looked at me perplexed. He replied with "but now you'll know what to do next time!" So I didn't feel useless.
Afterwards, Lance said "okay, Neal, what's your t-shirt size?" This was for earning the t-shirt for completing the challenge. I told him I thought I didn't deserve it, and with shock in his voice, he stated "but you didn't quit!"
I learned that day that I wasn't capable of 20x's more, but 100x's more than I thought. When you earn the respect of SEALs and Rangers, the lack of respect from others really doesn't matter. I can't help but remember that voice running behind me during Murph telling me that I was awesome, that I'm not a quitter, encouraging me on. I remember this veteran expressing to me his respect for me, for my character, for not quitting when any reasonable person would not have a problem with quitting. I'm thankful for people like that, who society looks up to, for telling me they believe in me. And moving forward, their voices go playing inside my head, like a recorder, when I need it most. To this day, I still remember Lance's voice, and will always respond like Pavlov's dog, and do whatever he says. This is the power and effectiveness of encouragement.
The people I listen to are the ones I truly trust. We have developed a deep love and respect for each other through years of friendship. I have made deposits in their lives and they have made deposits in mine. Even though they may tell me things that are hard to hear I know they have my best interest in mind so I do not take it in a negative way. I take all other voices with a "grain of salt."
"The Five Love Languages" by Gary Chapman changed the way I love and encourage others. To summarize, the book describes how everyone feels loved through five basic avenues. Most people have a dominate language which is most meaningful to them. Now, I encourage others with their love language in mind because I know it will leave a lasting impact.
Wendy G., Mother of Two Boys, Wife to One Committed to Healthy Living for the Whole Family
My friends and family, acts of kindness and God's word all encourage me.
I try to breathe life into those around me that are negative by uplifting and positive attitude and words. It's hard sometimes to not fall into the negativity trap when life throws crap at you and others around you aren't nice. My kids inspire me to stay positive so they don't fall into negativity. They watch me to see how to deal with it so it's important I stay positive as much as possible.
I try to give positive words, and motivate, inspire by example to encourage those around me. I intend to live by the Golden Rule.